Lectures
Listed are my current one hour lecture offerings. Please contact me by email at Kevin@KevinWomackArt.com for current fees.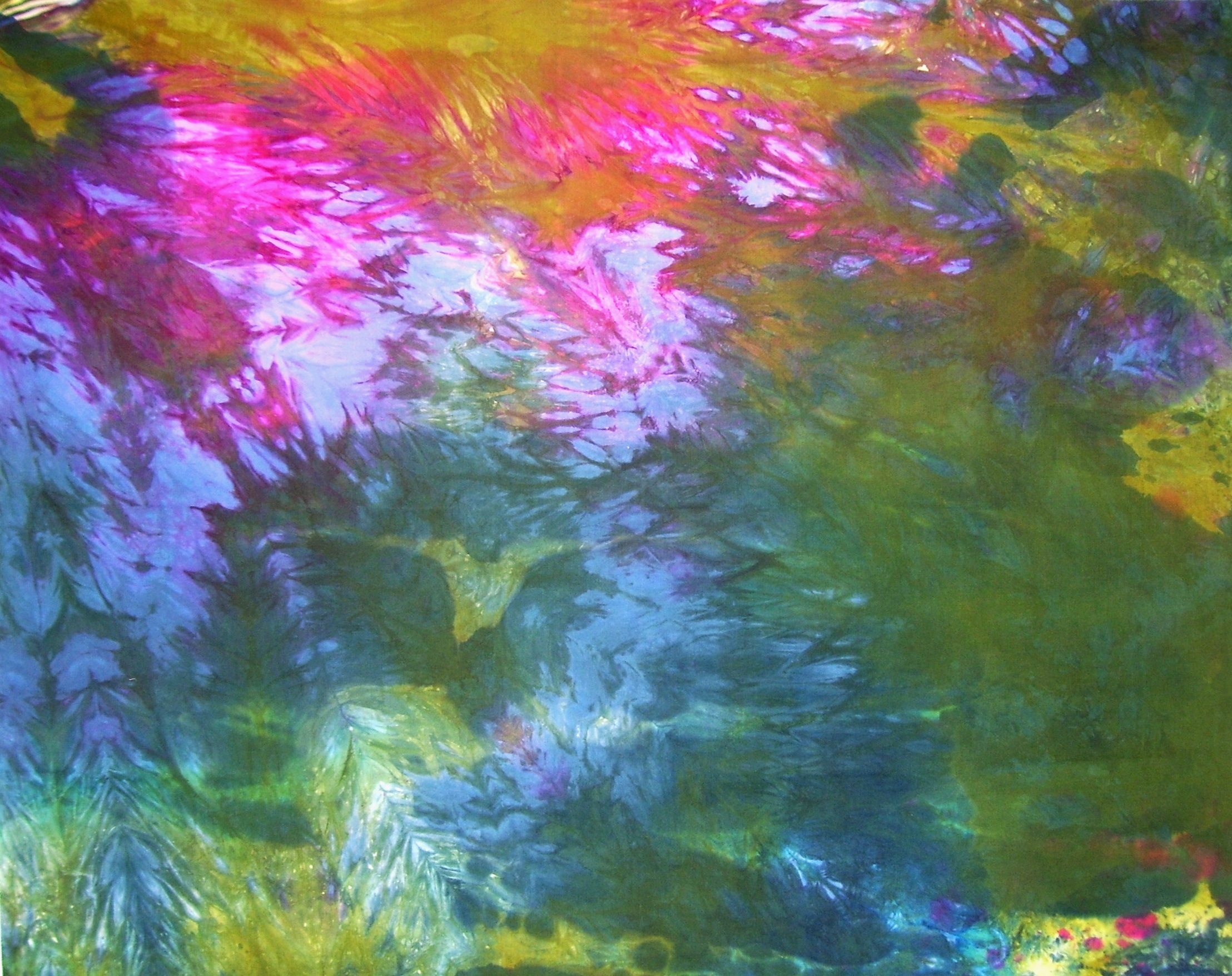 Adventures in Shibori Dyeing
Clamps, ropes and pipes, oh my! This lecture examines the processes that produce a variety of patterns on fabric using Shibori dyeing techniques. I discuss my dye methods and the everyday tools used to create these unique designs. Included are fabric examples of clamped resist, rope-wrapped and pole-wrapped resist, stitched resist and more. Join me in the adventure!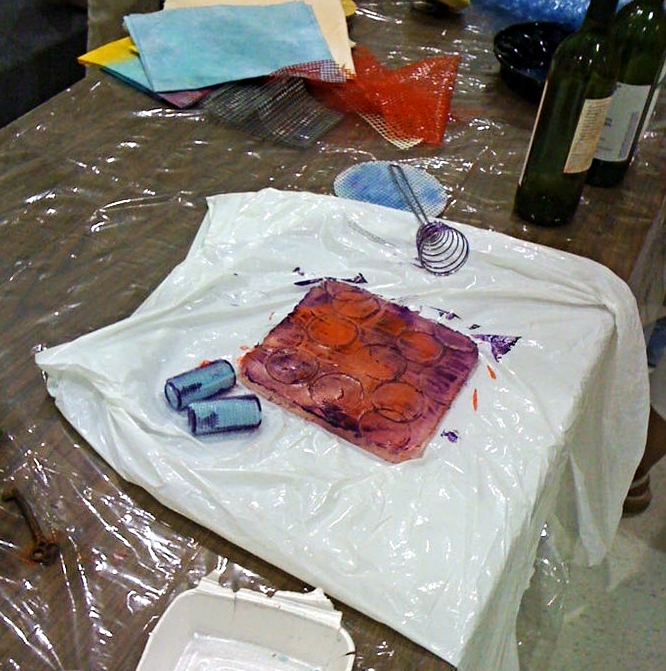 Playful Patterning with Fabric Paints
Tools from kitchen and hardware stores plus other "junk" you may have around your house can make incredibly interesting marks on fabric! Wire whisks, spatulas, string, wine bottles, and bubble wrap are just a few of the items you can use to pattern fabric that is uniquely yours. Join me as I show fabric examples using these tools and others. Observe my process as I print fabrics using gelatin plate monoprinting with "junk." Empty out that junk drawer and discover the wonders of printing your own patterns on fabric!
Color Theory
Have you ever looked at a color wheel and felt confused? Are you unsure when choosing colors for your projects? Join me on my personal journey of color exploration to help demystify the process. Just why did I chose those colors for that quilt? Do those colors really go together? Learn the answers as we discuss technical terms and see over 40 quilt examples that demonstrate nine different color theories. Seeing how colors combine and dance across the surface of a quilt fascinates me. I hope to instill this love of color play in you and leave you inspired to step out of your comfort zone to try new and exciting color combinations for your quilts
Threads & Embellishments
Shine, sparkle, glimmer and glitz. Decorative threads and embellishments can add extra pizazz to your quilts. While seductive, using decorative threads can often be problematic. Discover ways to deal with these difficult threads plus an array of embellishment techniques to add to your work. A sampling of the topics covered include machine embroidery, bobbin work, couching, threadplay, solvy, foiling, paint sticks and making your own "fabric" with threads. Come discover the possibilities!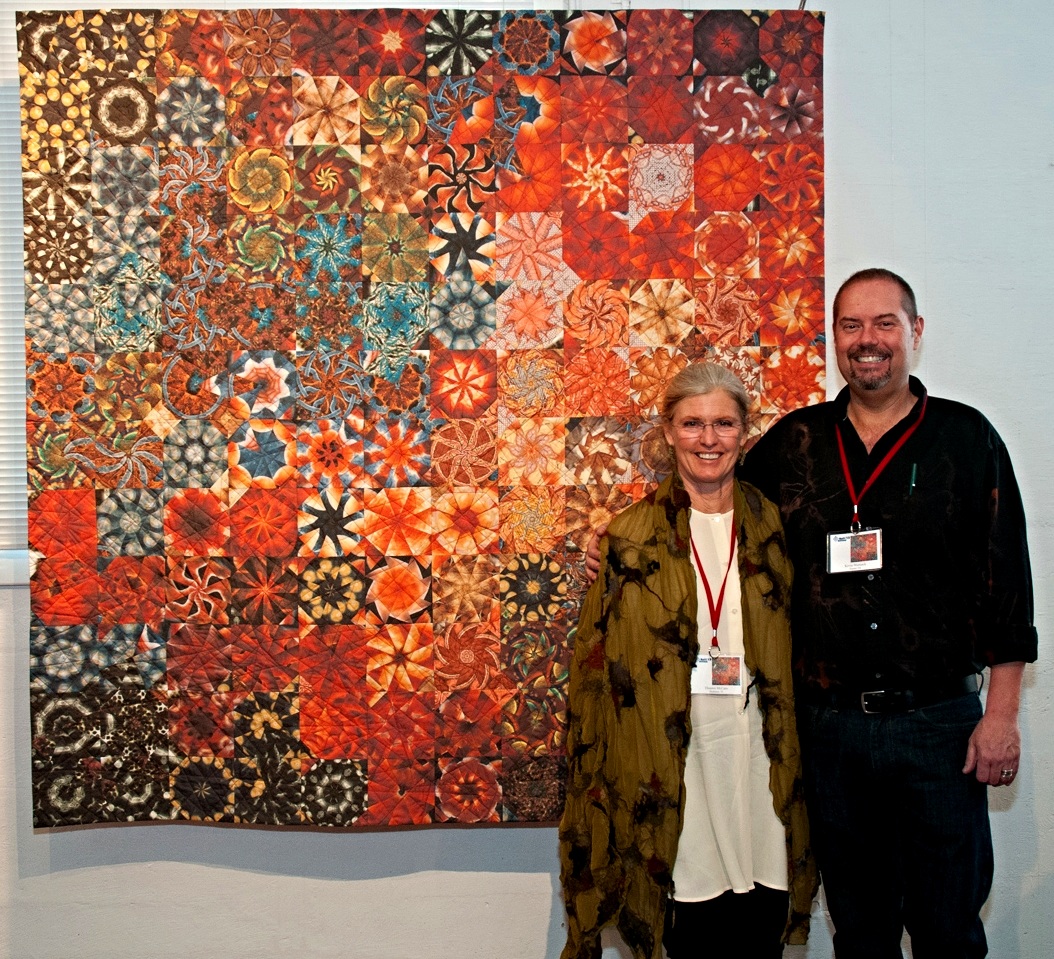 The Art of Collaboration
'So who did what part?' was the question quilt artist Eleanor McCain and I encountered over and over about our "Swaddling to Shroud" collaboration series. See: http://www.kevinwomackart/swaddling-to-shroud/. Discover how we fully immersed ourselves in the process from conception, design, and working methodology to finishing. Hear how the idea for the series came about and evolved over the six years we worked on the project. Learn the challenges we faced and the fun we had in the richly-rewarding process of making nine large quilts together.
Trunk Show
Join me on a tour of my quilting journey as I share over 75 examples spanning 30 plus years. Just how did I get here? From the start in 1986, we will follow my path through traditional quilting to art quilting, and my love of hand dyeing and surface design techniques that leads to where I am today.